Monday, January 24, 2022
SAM HOUSTON SWFIF ELECTS RONALD REAGAN BIOPIC
HOUSTON, TX (January 2022) – The Sam Houston Southwest Film Investment Fund has announced that it will provide an estimated $20 million dollars in prints and advertising funding for "Reagan", the newly completed feature from Rawhide Pictures. The parties are in the final stages of negotiations with a domestic distributor yet to be determined for the independent theatrical release.
Directed by Sean McNamara ("Soul Surfer") and starring Dennis Quaid ("The Day After Tomorrow") as the former president, "Reagan" was written by Howard Klausner ("Space Cowboys") and produced by Mark Joseph ("The Passion of the Christ"). The film, which wrapped principal photography in July of last year, tells the story of Reagan during his childhood, through his acting career and into the highest office in the land. Quaid's co-stars include Penelope Anne Miller ("Carlito's Way") as 'Nancy Reagan', Mena Suvari ("American Beauty") as Reagan's first wife, the actress 'Jane Wyman', and Oscar-winner Jon Voight ("Midnight Cowboy") as a fictional Russian KGB agent who profiles Reagan over four decades.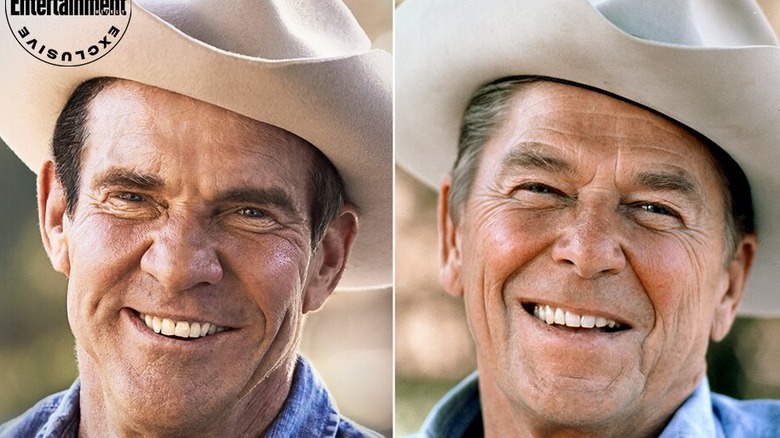 "The story of Reagan is a fascinating one whatever one's politics," producer Mark Joseph explains. "We came at it from the angle of wondering what his enemies thought of him and how they followed him and ultimately lost to him. Nobody knew him like his enemies did – and it's through that lens that we tell the story. It's impossible to understand the last century without understanding who Ronald Reagan was."
"Reagan" was partially filmed at the former president's ranch outside Santa Barbara, California. It's the first film to ever shoot on the private property where Reagan resided, which became known as the Western White House.
"A major factor in our decision to fund the film's P&A was the fact that the late president's life story is uniquely told through the eyes of a Russian KGB profiler tasked with ascertaining the risk of a Reagan presidency rather than as a fawning hero-worship tale," says Sam Houston's EVP Production & Development Steven Jon Whritner. "That's what makes the film not only a remarkable drama, but an accessible one that should appeal to a wide audience. Not only that, but Dennis Quaid's performance is a true tour de force that is sure to be remembered come awards season."
Sam Houston Southwest Film Investment Fund is chartered to promote filmmaking in the Southwest region of the United States, while fostering creative talent and bringing quality entertainment to a global audience. Through strategic alliances with leading production companies and distributors, Sam Houston provides financing for every phase of content creation, from development through production and distribution.
For more information regarding the Sam Houston Southwest Film Investment Fund, please contact Steven Jon Whritner through samhoustonswfilmfund.com.
Back to
Press Releases