Our Team
Antoine Fuqua
Director, Partner and Board Member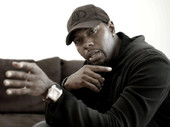 Antoine has in a few short years established himself as one of the foremost entertainment industry talents of his generation. In his debut film, The Replacement Killers, Fuqua introduced Chow Yun Fat to American audiences. The extremely successful release of the police drama Training Day cemented his place in an emerging crop of talented directors of highly stylized films that resonate thematically and personally with audiences around the world. Training Day star Denzel Washington won an Academy Award for Best Actor and co-star Ethan Hawke was nominated for Best Supporting Actor. His most recent hit film was the remake of Magnificent Seven starring Denzel Washington, Chris Pratt and Ethan Hawke.
Fuqua's diverse body of work includes Shooter, starring Mark Wahlberg; Tears of the Sun, starring Bruce Willis; King Arthur, starring Clive Owen and Keira Knightley; and the documentary Lightning in a Bottle, a live concert produced by Martin Scorsese that celebrated the history of the blues.
Antoine Fuqua is also one of the industries most sought after music video and commercial directors. He has helmed videos for Prince, Usher, Stevie Wonder and Toni Braxton, among others. For his video for Coolio, Gangsta's Paradise, Antoine won an MTV Award for Best Rap Video. His commercial clients include Pirelli, Armani, Reebok, Nike (Jordan Brand) and GMC.
Growing up in a tough neighborhood of Pittsburgh not only inspired Fuqua's vision as a director, but also his passionate support for underprivileged youth and the community. Fuqua produced, financed and set up a distribution deal with HBO for Bastards of the Party, an award-winning documentary on the evolution of gangbanging.
For more, view Antoine at IMDb.
Back to our Team »