The Sam Houston Southwest Film Investment Fund (SHSWFIF) has been established as a Texas LLC and has members that have pledged a specific level of investment into the development, production and distribution of quality entertainment content, primarily theatrical motion pictures.
SHSWFIF is chartered to: promote filmmaking in the Southwest region of the United States, attempting to maximize the existing infrastructure; invest in new and improved infrastructure where needed; utilize and develop local creative talent and businesses. All of these objectives are associated with a reasonable return on investment.
Our investors come primarily from the Southwestern United States, and have many years of experience in the oil and gas industry. As seasoned investors, they identify the striking similarities between investing in the oil and gas industry and investing in the business of making commercially viable motion picture content. Accustomed to carefully managing risks and realizing returns on investment, our investors are prepared to mitigate the risks inherent in film production and reap the benefits from investing with established production partners that have proven track records. SHSWFIF's members feel strongly that the old paradigm of centralized Hollywood studio filmmaking is not always efficient and believe exploring new business models, strategies and shooting locations, particularly those unique to Texas, is paramount to success – a move we are not only strongly supporting, but also spearheading.
SHSWFIF has garnered active support from various Texas State Legislators and personnel who have agreed to draft and introduce bills in the State Legislature that will create State sponsored tax incentives and grants to help facilitate heightened interest in and employment growth of the visual arts in Texas. In addition to investing in entertainment content development and promoting new production-friendly legislation, the objective of the SHSWFIF is to support the building of the Sam Houston Film Studio, a state-of-the-art motion picture studio complex in Texas, thereby increasing local employment and supporting local businesses by bringing more film production to the state.
SHSWFIF's primary focus is on prints and advertising (P&A) in the range of $8MM to $30MM as a financier to the distributor. Since 2010, the Sam Houston Southwest Film Investment Fund has provided tens of millions of dollars in Prints and Advertising ("P&A") and backstop P&A financing for some of today's most successful films with production budgets of up to $70 million. On occasion, when an exceptional project presents itself and an equity partner takes the lead, we have the ability to fund a production's budget up to $45MM. At the moment we have the capacity to fund up to three such projects per year. As of this year, SHSWFIF has also begun diversifying into scripted television.
SHSWFIF is one of the few funds in North America that is an active member of the Academy of Motion Picture Arts and Sciences.
PROJECT INITIATIVES FOR 2019-2020
Industry standards are constantly changing and so are the property interests of the Sam Houston Southwest Film Investment Fund (SHSWFIF). High-quality, artistic, and commercially viable properties and concepts are always a priority. As of 2020, the fund is prioritizing certain genres and has created several specialty divisions specific to the type of projects currently under consideration, specifically high concept Dramas (with an emphasis on WWII era war dramas), "Faith-based Adjacent" (where faith is a key component, but the story has significant cross-over potential), and Genre Films (specifically, high concept Action and elevated Suspense inclusive of Horror). Please adhere to the following requirements to ensure that your submission receives an equitable and comprehensive review:
Submission Requirements
When anticipating a submission to SHSWFIF please list any key talent attachments, prior commercialization, estimated budget, status of project and any other aspects (e.g., awards or recognitions) that may impact our development team's review in your cover letter. If genre-specific or applicable to any of the specialty categories listed above, please include that information in your introduction as well.
Upon submission, it is imperative that you attach all of the required materials pursuant to the type of financing your project may be seeking. You will find a "submission checklist" for all such materials under each of the applicable tabs on this website (i.e., "Development Financing", "Production Financing" and "P&A Financing"). Projects that are not submitted with the required backup documentation may be summarily rejected. Only digital files will be accepted and any hardcopies, unless specifically asked for, shall not be opened or returned.
Please allow a minimum of 1-2 weeks for SHSWFIF's development team to thoroughly review your submission.
Important: Please be advised that SHSWFIF cannot accept unsolicited projects or pitches. Therefore, if you do not currently have representation (i.e., an agent or entertainment attorney), please feel free to download our standard Idea Submission Form, which must be returned fully executed with every submission.
---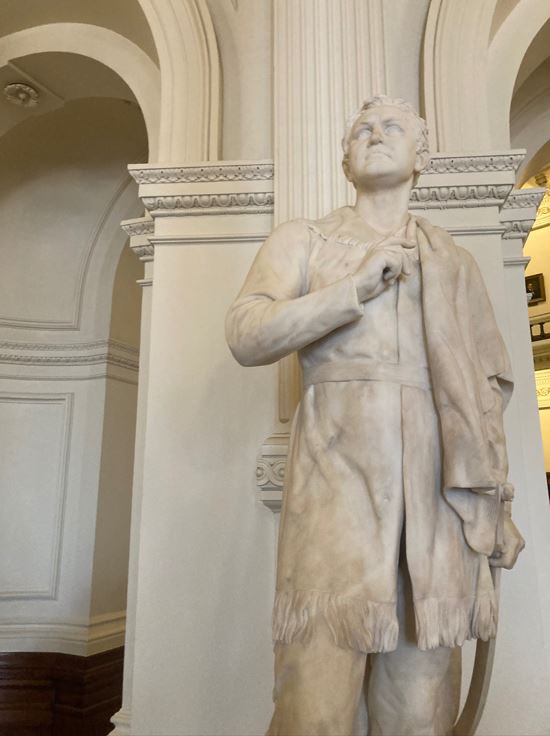 Sam Houston, the first and only President of the Republic of Texas.