Our Team
Remy Carter
Vice President of Development / Producer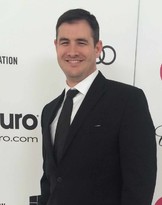 A award-winning feature film and music video producer whose career spans a variety of commercial and creative projects the last 15 years.

As a producer, he has earned two awards for his short films and eleven for his feature films, including Best Picture at two film festivals and Audience Choice Awards at two more. Among the actors he has worked with are Malcolm McDowell, Charles Durning, Lou Diamond Phillips, C. Thomas Howell, Rex Lynn, Robert Englund, Charlie Baker, Cathy Baron, John Glover, Lacey Chabert, and Dan Lauria in the feature films "The Waiter", "Flutter" and "Sanitarium". He has also worked with the Mark Gordon Company on developing a TV series based on the feature film "Sanitarium".

Carter has also produced music videos for artists including Paul Wall, Jason Cassidy, Pale and Bun B, many of which have been broadcast nationally on CMT and MTV.

In addition, Carter has 26 years of experience as a professional photographer and a background in online video production. Among the projects he created and developed was The Sports Update for Hearst Corp., a new-media series that ran for 155 episodes and featured veteran football writer John McClain as NFL analyst.

Carter is a member of the TXMPA and SWAMP, which both support up-and-coming filmmakers across Texas and the Houston Independent Producers Group (HIP), which he co-founded. HIP was created to help aspiring producers find understanding and direction in their filmmaking. Carter serves as a mentor to novice filmmakers and helps them navigate through all aspects of the business.

Remy Carter's philosophy is to create a balance of art and commerce in his work. As a producer, Carter lives by this simple yet elegant mantra that has allowed him to create film as art that preserves the director's vision while ensuring commercial viability and fiduciary responsibility to investors.
Back to our Team »