Our Team
Derek R Hill
Production Designer and Art Director, Board Advisor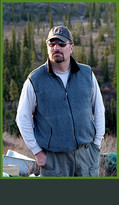 Derek R. Hill served as production designer on Oliver Stone's "W" and Antoine Fuqua's "Olympus Has Fallen" prior to his work on Sean Penn's acclaimed feature "Into the Wild". It was Hill's fourth collaboration with Penn; his association began on Penn's directorial debut "The Indian Runner", "The Crossing Guard" and he continued to work with the actor on his film "Hurlyburly", directed by Anthony Drazan. Hill has an equally long relationship with Oliver Stone. He was set decorator on Stone's "Born on the Fourth of July" and "Talk Radio", and art director on "JFK" and "Any Given Sunday".
His most recent work as art director was on "Pirates of the Caribbean: The Curse of the Black Pearl". Current projects include production design for "Extraordinary Measures", now in post-production, and the new NBC television comedy "Community".
Hill has worked on more than 50 films in his career and has many television credits, including the award-winning television series "House," for which he received an Emmy Nomination for his production design. He also received an Emmy Nomination on the Critically acclaimed History Channel miniseries "Hatfields and McCoys".
For more, view Derek at IMDb.
Back to our Team »